Even with just a few days till October 31, it's not too late to decorate. Pumpkins from the grocery store, leaves from the backyard and a few things around the house can transform a table or mantel into Halloween central.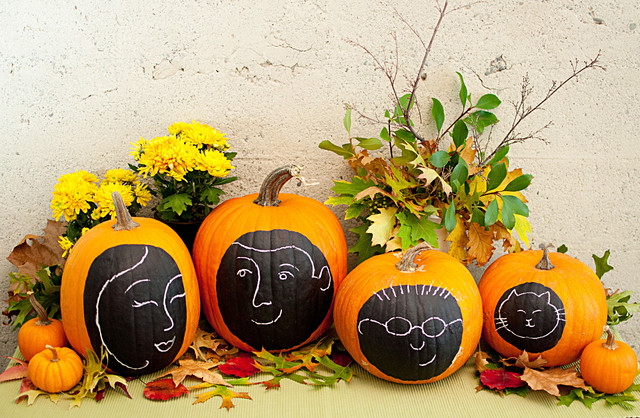 Family Portrait in Pumpkins
Forget carving. Forget covering the whole pumpkin with paint. Just add a circle of leftover chalkboard paint to one side of each pumpkin and draw on some funny faces (anyone you know come to mind?). Do the family, a group of friends, your pets or even Mr. Jack-o'-Lantern himself.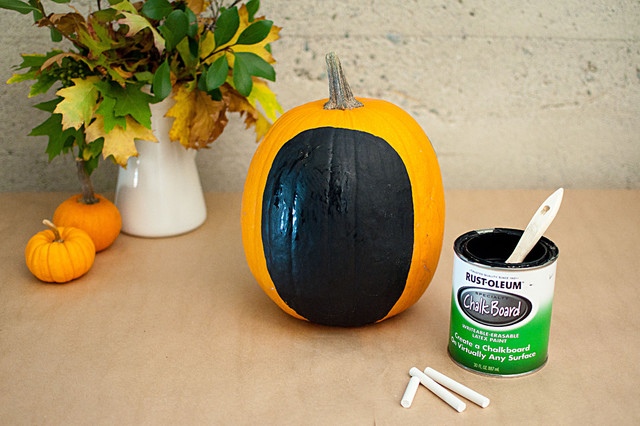 Houzz content coordinator Johanna Cookson found that painting pumpkins all over made them spoil faster. So she came up with the idea of just painting a circle on the front with chalkboard paint and writing Halloween messages on it. Not only does this brilliant shortcut preserve most of the pumpkins' happy orange color, but we also think it creates the perfect canvas for faces.

To make your own pumpkin family portrait:

1. Select pumpkins in a variety of shapes. Look for smooth sides without too many blemishes or deep ridges. Wash and dry your pumpkins thoroughly.

2. Paint chalkboard circles with a paintbrush an inch or so wide. Apply at least three coats of paint, allowing the paint to dry completely between each coat.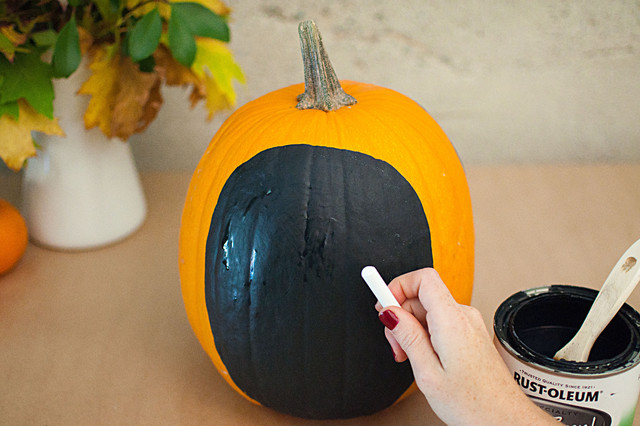 3. Rough up the end of a piece of chalk before drawing on the pumpkin. The square edges of a fresh piece of chalk can scrape off the chalkboard paint. If this happens, just touch up the scuff with more paint.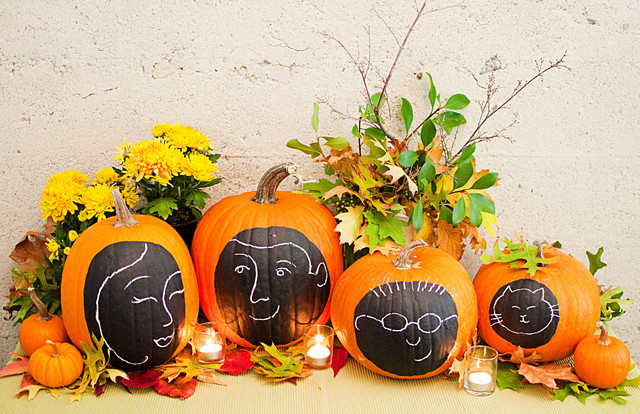 4. Erase any goofs or smudges with a damp paper towel. You can also completely erase your faces and try different people, hairdos and expressions.

5. Finish off your scene with grocery store mums and a vase of twigs and leaves, and candles if you like. (Don't leave candles unattended, and be sure to keep wicks well away from leaves.)

Next: 6 more quick Halloween arrangements for tables, shelves or mantels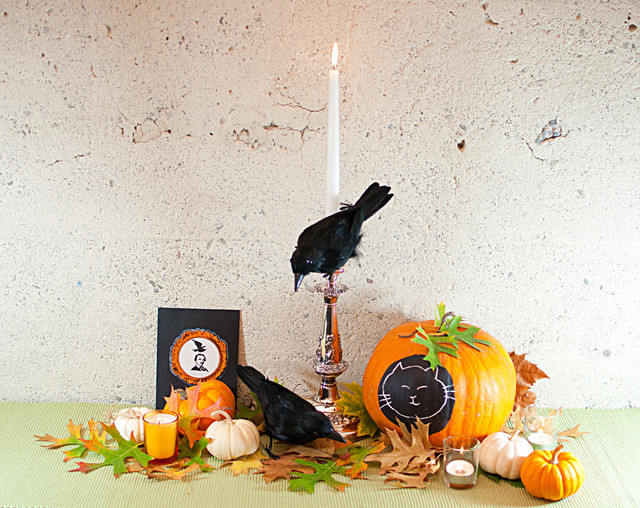 Nevermore

Repurpose one of your chalkboard pumpkins (or just use an unpainted one) for a Halloween display with a touch of glam. Wire a faux crow from the crafts store onto a vintage candlestick and set it on a bed of fall leaves and pumpkins. Add a Halloween card or a piece of clip art (in this case, Edgar Allan Poe) on an orange and black background. Light the candle, dim the lights and pull out your copy of "The Raven."

Design and styling by Sara Jamison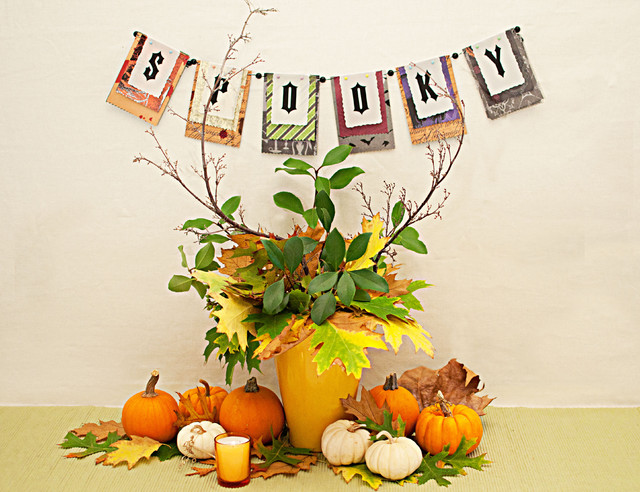 Halloween Banner

Fill a pitcher with fall branches and arrange mini pumpkins on a bed of leaves at the base. String letters forming a Halloween message onto a paper banner and pin it above your arrangement.

Design and styling by Sara Jamison; banner by Cheri Williams
Clip-on Color

Walk down a tree-lined city street and keep an eye out for fall color, like these maple leaves. Pick up some pretty ones and press them in a book for an hour or two to flatten them. Then clip them to a string with miniature clothespins from the crafts store and hang them above mini pumpkins and a vase of candy corn.

Design and styling by Rikki Snyder
Halloween on a Tray

There's room for Halloween in the tiniest of spaces. A mini pumpkin, jam jars of cider and candy corn are a party when gathered on a tray.
Rikki Snyder
Go Bare

Starkly bare branches and a pair of white pumpkins are no less effective for their simplicity.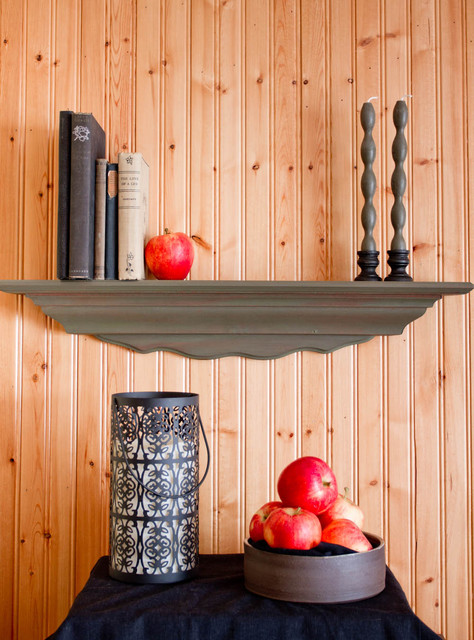 Give the Apple Its Due

You may already have beautiful red apples in the kitchen, waiting to become part of your fall lunches, snacks and desserts. Before dipping them into caramel, turn them into star attractions on a tabletop or shelf.

How are you decorating indoors this year? We'd love to see your photo in the Comments below!