To use a tablecloth or not to use a tablecloth? That is the question (today). I grew up in an apartment with an enormous glass table that remained uncovered at all times – until company arrived, at which point a tablecloth was flung over it and several layers of plates, bowls glasses and flatware dressed it up. A quick internet search tells me that's the case for most people. But, how does one decide to cover a table or leave it exposed? And if you do cover it, how low do you go?

In most cases, it depends on the state of the table: A long tablecloth instantly improves a less-than-perfect table and adds a note of elegance for a special event, like a dinner party. Exceptional tabletops require no dressing at all. But sometimes you might want the softness of a tablecloth without completely obscuring interesting legs. In that case, go for a short one!

I can go both ways; I love a great tablecloth for the color and texture it brings to a tablescape, but I can certainly appreciate a stunning table that deserves to be seen at all times. Take a look and see what you think:
The exposed wood table drives home the clean-lined modernist feel of this kitchen. A tablecloth might be too fussy in this case.
The simple tablecloth used for this outdoor shindig is no doubt covering a somewhat unattractive, garage-grade folding table. The tablecloth gives beveraged a pretty place to sit, while not distracting from what's important: the natural surroundings.
Picnic tables are great with or without tablecloths. This indoor uncovered version feels warm, rustic and inviting, but an outdoor version might benefit from a tablecloth, if only to conceal potential outdoor grimy-ness.


The French country pattern of the textile in this outdoor setting softens the table and helps it stand out from its natural surroundings, infusing a festive element to the party that's about to take place.
The burlap tablecloth in this tablescape works well with the rest of this dining room's historic decor. It provides a wonderfully neutral backdrop for the expressive China without drawing attention away from the French chairs and traditional sideboard.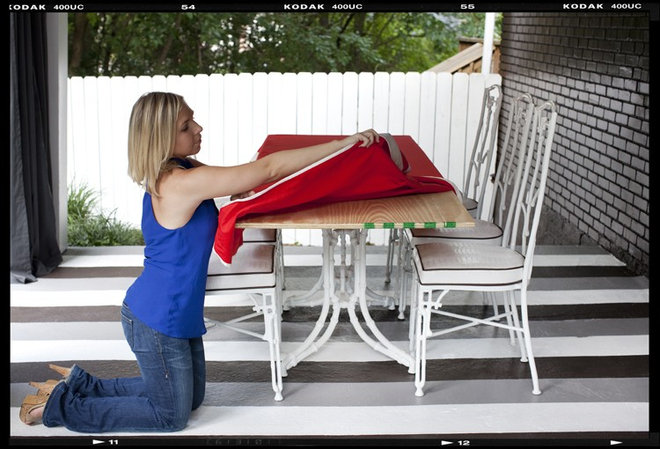 This unattractive table was smartly concealed for a clever carport makeover by Houzz contributor Decor Demon ...
Et voila! You'd never even think about the table underneath upon entering this party oasis.
The elegant stripe of this white tablecloth pairs perfectly with the rest of the outdoor scheme. Without it, the design might fall short.
Can you handle the furry tablecloth? A glimpse of the base suggests the table doesn't necessarily need to be hidden, but a rare covering such as this really sets this arrangement apart.
This cloth adds pizzazz to the tablescape, allowing for more subdued dishes and decor. The textile's intricate pattern grounds the whole setting, making it at once high-style and approachable.
Sculptural table bases, like this one made of petrified wood, need no dressing. The glass top allows diners to enjoy its twists and turns from all angles.
A gingham tablecloth brings a romantic country feel to any kitchen. It works especially well with floral window coverings in a retro cottage, keeping the room feeling breezy and light. The shorter textile lets the white legs of the table show through, implying that this table may not be be concealed all the time.
I think the Eamses would have said no to tablecloths, so this design is probably in step with their intentions. In many cases, less is, in fact, more.
If you don't want to completely cover a table with redeeming features (turned legs, in this case), consider using a wide runner, which adds texture, color and interest without obscuring the table beneath.
I wouldn't cover this gorgeous tabletop, either. Thick, carved wood chunks with well-placed nail heads need not be concealed.
Although somewhat difficult to pull chairs up to, I love tailored, floor-length tablecloths for more formal settings. In this image, the mixed-but-coordinated chairs lend a whimsical flair to a traditional table.
Leaving a tablecloth off this turned wood table makes the juxtaposition of modern and traditional even more clear.
The traditional rug, shaggy chairs and textured pendant finish off this minimal, Danish-infused dining room — no need for a tablecloth here.