High use, a low door, kids and pets running amok — whatever your area endures, this insight will help you find the right rug for it.
grew up in homes with wall-to-wall carpeting and didn't know the beauty of a hardwood floor until my late 20s. Moving into a newly built condo in the heart of downtown, I was faced with what seemed like acres of gleaming wood floor. I loved the coolness under my feet and how streamlined everything looked.
It didn't take long, though, before I craved a little coziness — so I bought a carpet. Let me clarify, it was nowhere near that simple. For me, finding an area rug was a months-long journey that taught me everything I could want to know about pile, durability, size, shape, patterns, textures, weight, cost, dye, practicality, manufacturing processes and, last but not least, beauty.
In the end I found that I personally gravitate toward antique low-pile or flat-weave rugs with a visible patina. Where some see old and used, I see a romantic past that might have included time spent on castle floors.
Beautifully worn antique rugs take me back to living in Amsterdam, where rugs are more about function than fashion. The Dutch are effortlessly stylish and extremely practical, and fully carpeted floors are an anomaly. Area rugs are placed only where bare feet might encounter them, and they are usually easy to clean and to hang outside on a wash line.

My newest love is patchwork rugs made from antique rug fragments. They're a modern take on very vintage carpets and offer one-of-a-kind patterns and combinations. Like the rug shown here, they beautifully adorn the floors of modern homes, adding interest and a story.

I have since moved houses many times, and my prized rug with its timeless pattern and vintage allure has weathered countless iterations of home design and decor. It has also been to the rug cleaners a lot more than I'd like to admit, and not only is that time consuming, but it's costly too. Because my rug is made of wool, it gives off faint hints of "warm goat" scent if I don't care for it properly. That is definitely not a good thing!

It's important to take into account how easy it will be to clean your rug and whether you can do it yourself or you'll have to take it to a professional. In a home with pets, children or multiple activities going on, a rug is going to get dirty. Can you clean it without a lot of hassle?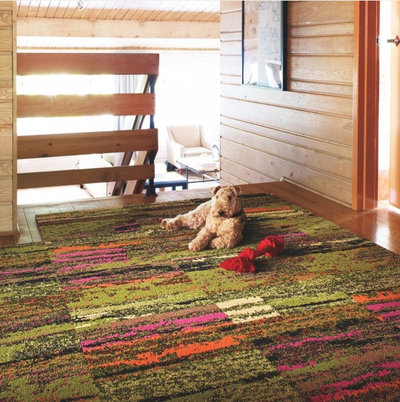 The Right Style for Your Lifestyle
The other day I went to a client's house to check on a renovation, and she wanted me to see how things had come together in the master bedroom. When I had left it last, the room was a warm modern bedroom with beautiful wood floors and a jute area rug under the bed with a pattern that wasn't really working. I recommended we find a better suited rug for the space.
Walking to the doorway this time, I saw the enormous shag carpet that used to be in the family room taking up every square inch of the space. I'm very bad at pretending something looks great when it doesn't, and in my shock all that came out was, "What happened in here?" My client could see I was alarmed and said, "Oh no! You don't like it? It took my husband and I all day to take the bed apart and get this in here." She was crestfallen. They meant well in their effort to repurpose the family room rug in a different space, but it just didn't work. The golden shaggy carpet took the room from modern to the '70s in an instant.
High-pile or shag carpeting works perfectly in a living room or bedroom in smaller doses. The high-pile carpet tiles shown here were put together to create an unexpected mix of pretty patterns. Enough floor surrounds the carpet that it doesn't overpower the space but still provides comfort and coziness.
Many people like the luxury of a high-pile carpet underfoot. In those cases I recommend placing large, dense area rugs in the space, and only in the areas in which they'll be walking on it. My personal belief is that rug is wasted when too much of it is hidden under furniture, in corners or underneath baseboards.
Because my recent client's family members love to entertain, host a lot of sleepovers and are always on the go, high-pile or shag rugs really don't fit their lifestyle. Frequently used spaces require rugs that can withstand a multitude of sins — from spilled drinks to muddy shoes — and a shag rug is very difficult to keep clean in those situations.
Switching to a flat-weave or extremely low-pile rug reduces the look of wear and is more practical when it comes to vacuuming or spot cleaning.
In the room shown, my client needed an area rug that provided warmth underfoot but was still minimalist and elegant. A high- or medium-pile rug would have changed the sleekness of the room by creating an "island" with furniture on top of it. We chose a very low-pile quatrefoil-patterned carpet that was cut and bound to create a custom area rug. Although the homeowners and their guests do not wear shoes in the house, we had the rug protected with stain repellant to prolong its life.
Consider three things when choosing an area rug:
What you love
Where it will be
How to take care of it
As a general rule of thumb, medium- to high-pile carpets should be cleaned once a year to remove dust, allergens and accumulated dirt that isn't easily removed with a vacuum. However, most people don't take their rugs to professional cleaners for years, if ever.
Low-pile and flat-weave carpets provide fewer hiding spaces for nasties and are more easily spot cleaned, but they require a twice-yearly old-fashioned rug beating to remove accumulated dust. Many can be dry cleaned in lieu of being cleaned by a professional.
It is important to schedule regular cleanings of all of your rugs and carpets to create a cleaner and healthier home environment. Rugs and wall-to-wall carpeting harbor a lot of yuck if not properly cleaned — from carpet beetles to carpet mites — and it makes sitting on the floor or walking barefoot really unappetizing.
I recommend people choose flat-weave area rugs for high-use rooms. If there are young children who play on the floor, a low-pile carpet with a premium rug pad creates a soft, cushy place to be.
The rug shown here has a very low pile. But if anyone wanted to sit on the floor, it'd be comfortable enough for them to do so.
Bedrooms are a nice place to have a high-pile or shag area rug, but it should surround only the bed and not reach the far expanses of the space.
There are countless "rules" on how large rugs should be or how they should be laid out in a space, and I generally stick to what I know has worked for me: What feels right?

I tend to shy away from placing all furniture on the area rug, as I don't really like the island feeling it creates. However, using area rugs to denote a specific space within a larger room, such as under a dining table and chairs, is different.

The rug shown here is larger than the dining set and thus defines the dining area without confining it.
What's the Purpose?

Back to the "rules," there are several schools of thought regarding furniture placement on area rugs, but I always ask my clients to tell me how they use the space.
The use of the space determines the purpose of the rug.
If they sit on the
sofa
to watch television and no one is ever on the floor, the area rug would serve the purpose only of visually warming up and defining the space. In that case a flat-weave rug works wonders.
In the room shown here, the rug provides a point of interest while anchoring the coffee table and sitting area within the large room. It was used without a pad, as cushioning was not a primary goal.
Sisal and other natural-fiber area rugs, such as jute and hemp, give rooms a more relaxed, organic feel — think beach cottage, French country farmhouse or wine country getaway. The rug shown here provides a great counterpoint to the more traditional furnishings and instantly makes the space more approachable.

Sisal and jute work well with both casual and modern furnishings, and are surprisingly soft and textural underfoot. They can be taken outdoors and beaten, but deep cleaning is a bit trickier. They aren't the best rugs for high-traffic areas such as the entry, as the sisal can splinter over time and become "pokey." The flatter the weave, the less likely this is to happen.
As a practical way to add a nonslip surface to an entry, a small flat-weave area rug serves as both a place to take off your shoes and a visual break from a bare floor.

The type of pile you choose should be based on how large your entry is and how far from the door you can place your rug. Many a person has gotten the front door stuck on the entry rug! Entry rugs work best if they are flat weave or have a very low pile for this reason.

Because the entry is adjacent to the outdoors, rugs there usually need frequent cleaning. They can also be dangerous if not properly secured to the floor with either a nonslip rug pad or rug tape. The rug shown here adds visual interest to the eclectic space, creates a more welcoming entry and allows for easy front-door clearance.
How to Choose

Area rugs can be an investment both visually and financially. They can make or break a room and instantly change the way a space feels. The rug shown here ties together the eclectic room with its neutral color and widely spaced pattern. It is also a flatter weave, which flows seamlessly into the surrounding floor space.

Choosing the right type of rug is as much about the way it looks as the way it feels underfoot. It's also important to address its practicality in your home.

Some things to consider when shopping for area rugs
:

What type of lifestyle do you lead? Are you chasing muddy children through the house? Do you have pets? A white shag carpet is probably a bad idea in those instances.
Where will the rug be located, and what purpose will it serve in that room? Is it a focal point in a formal living room or a place people can sit on while playing board games in the family room?
What is your overall style? Look to complement the style of the space. An area rug doesn't need to match everything in the room, but it should work with the tones and textures of the existing furnishings.
How easily is it cleaned? An expensive antique carpet is going to have to go to a professional at least once a year if placed in high-use rooms, and is usually too cumbersome to stick in the trunk of your car. Does it need to be picked up, or can you drive it to the dry cleaner?
What feels best underfoot? If you prefer a softer feel, then natural fibers such as wool and cotton are for you. If you want a lush, deep, pile, synthetic fibers can give you a similar feel. Organic fibers such as jute and sisal can be surprisingly soft underfoot but don't give the same physical warmth as a woven rug. It truly is a taste preference when it comes to feel.
Timelessness. Does your style change with the seasons? Will that rug work with next year's decor?
Are you going to be moving? Going larger or smaller means the rug might not work in a new space. I've seen a lot of people trying to fit giant area rugs into much smaller spaces. Folding a rug under isn't really a great style choice.
Cost. Spending a bit more on a high-quality area rug may be more worth it to you in the long run than buying mediocre-quality carpets at a bargain store. However, if you like to change things up a lot, less-expensive area rugs are probably a better bet. You can score amazing area rugs at unbelievable prices online.